Spring 2018 Registration Other
**THERE ARE SOME DIVISIONS OF BASEBALL AND SOFTBALL THAT ARE CURRENTLY FULL** If you are interested in registering, please contact the Player Agent for details. zllplayeragent@gmail.com

Early Bird $50 Discount has been extended to Feb 16th!!!
Welcome to Zionsville Little League and thank you for registering your child for the 2018 Spring Season.
Save $50 on registration fees if your player is signed up before February 1st! We urge you to register before February 1st to avoid missing out on evaluations and team assignments.
PLEASE CONFIRM YOUR CONTACT INFORMATION IS CORRECT. At this time, you are unable to add a secondary contact into LeagueApps during registration. Once you are on the registration confirmation page, please update your account accordingly so that ZLL will have more than one contact for your child. WE WILL USE EMAIL ADDRESSES IN THE SYSTEM FOR CONTACT REGARDING IMPORTANT DATES AND EVENTS.
*NEW FOR 2018*
Baseball Divisions will be as follows for the 2018 Season, no players will be eligible to move into a higher division, unless they did so for 2017. If you played in a higher division in the 2017 season, please contact the Player Agent for registration. If you are unsure of your child's league age, please refer to the Little League International Age Charts (below) or utilize the Little League Age Calculator.
Rookie 6/7 (Age 6/7 as of 8/31/2018)
Rookie 8 (Age 8 as of 8/31/2018)
Minor 9/10 (Age 9/10 as of 8/31/2018)
Major 11/12 (Age 11/12 as of 8/31/2018 *OR* Age 12 as of 4/30/2018)
Intermediate (50/70) Age 13 (Age 13 as of 08/31/2018)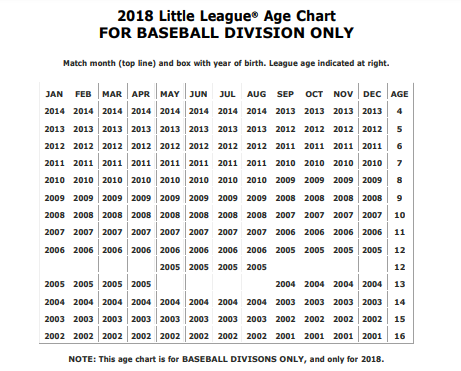 Please note that each team will have a maximum of 12 players to a roster for baseball, and 13 players to a roster for softball. Once teams are full in your child's age group, registration will be closed. If teams are not full, registration will remain open until the evening before Opening Ceremonies. No registrations will be accepted after April 12th, 2018.

If you reside outside of the ZCS school district, your child may be eligible to play in Zionsville Little League. Please email the Player Agent to determine eligibility.
Any parents wishing to volunteer for the 2018 Spring Season, MUST register separately under the Volunteer Registration, found here (ZLL Volunteer Registration) or at the bottom of this page . If you are not registered as a volunteer, you will not be contacted. Little League International requires that any parent involved in the team have a volunteer application (click here) on file. Applications cannot be processed without a SSN, there are no exceptions. Please upload this document along with your Drivers License for processing. This form must be completed and processed in order for a parent to be considered as a Manager, Coach, or Team Parent.
If you have any questions or concerns about anything mentioned, please contact the Player Agent Ashley Alexander at zllplayeragent@gmail.com.
Below are all the required documents that will need to be scanned in prior to registration confirmation NO PAPER DOCUMENTS WILL BE ACCEPTED:
Current medical release (

click here)

ORIGINAL Birth Certificate

Proofs of residency within the ZLL Boundaries.
Beginning with the 2017 season, Little League International has implemented the following changes to the Proof of Residency Requirements:
A school issued report card or performance record will no longer be accepted to establish school attendance. Either the School Enrollment Form (click here) or an official/certified school enrollment record dated prior to October 1, 2017 can be used to establish school attendance for the 2018 season.
Residence shall be established and supported by documents containing the full residence which includes parent(s) or guardian(s) name, street address, city, state and zip code information, dated or in force between February 1, 2017 (previous year) and February 1, 2018 (current year), from one or more documents from EACH of the three Groups outlined below:
Group I
Drivers License (photo ID of parent(s) or guardian(s) with qualifying residence address)

School records (home address of player's parents or guardians)

Vehicle records (i.e., registration, lease, etc.)

Employment records


Insurance documents (with residence address)
Group II
Welfare/child care records

Federal records (i.e., Federal Tax, Social Security, etc.)

State records




Local (municipal) records

Support payment records

Homeowner or tenant records

Military records
Group III
Voter's Registration

Utility bills (i.e., - gas, electric, water/sewer, phone, mobile phone, heating, waste disposal)

Financial records (loan, credit, investments, etc.)


Medical records




Internet, cable, or satellite television records
---
Free Agent Fees

Regular

130.0

Free Agent Fees

Regular

130.0

Free Agent Fees

Early Bird

175.0

Regular

225.0

Free Agent Fees

Early Bird

175.0

Regular

225.0

Free Agent Fees

Regular

100.0